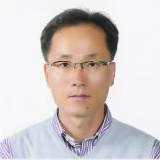 Department of Psychiatry
Bucheon St. Mary's Hospital
The Catholic University of Korea College of Medicine
Chi-Un Pae
Address:
2 Sosa-Dong, Wonmi-Gu,
Bucheon 420717 Kyeonggi-Do, Republic of Korea
Research Interests:
Clinical Psychopharmacology
Depression
Clinical Trial
Meta-analysis
Psychiatric Genetics
Biography:
Prof. Pae is currently a Professor of Department of Psychiatry at The Catholic University of Korea College of Medicine, Seoul, Korea and an Adjunct Associate Prof. of Department of Psychiatry and Behavioral Sciences at Duke University Medical Center in Durham, NC.
He has been a Vice Chair on the Institutional Review Board at the Bucheon St. Mary's Hospital, Bucheon, Korea and a faculty of the Catholic Neuroscience Research Institute.
Prof. Pae achieved his MD and PhD degree from The Catholic University of Korea College of Medicine in Seoul, Korea.
He completed his psychiatry residency at St. Mary's Hospital, Seoul, Korea.
Prof. Pae is certified in Psychiatry with the Korean Board of Psychiatry with subspecialty Certification in psychopharmacology.
Prof. Pae has 20 years of clinical experience with particular expertise in psychopharmacology, mood disorders, psychiatric genetics, and clinical trials.
He has been a principal investigator or co-investigator with many research projects targeting for mood disorders, funded by a government and pharmaceutical companies.
He is a consultant and/or serves on advisory boards for major pharmaceutical companies and has received numerous awards and honors including the Korean Neuropsychiatric Association Research Award, Korean College of Neuropsychopharmacology Research Award, GSK Korea Young Researcher Award, GSK Korea Research Award, Distinguished Faculty of the Year at Catholic Medical Center, and Otsuka Korea Research Award.
Prof. Pae has published over 270 peer-reviewed, articles in SCI-indexed international journals and has given over 400 presentations and invited lectures at national and international meetings.
He serves on the Editorial Board of 8 international and 5 national journals and is a reviewer for over 15 national and international journals.
Prof. Pae has served on Korean FDA psychopharmacology and Korean Research Foundation review committees and various committees at national levels for psychiatric Research.
He is currently a Secretary for Clinical Trials and Ethics at Korean College of Neuropsychopharmacology.