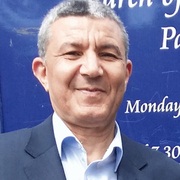 Ireland
Staff member at Dublin Dental Hospital.
Abdulhadi Warreth
Address:
327 collinswood,collins Avenue,
Dublin 9,Dublin,
Ireland.
Research Interests:
Restorative and oral implants
Biography:
Abdulhadi Ahmed Warreth graduated from Benghazi Dental Faculty in 1981.
He worked in a Benghazi polyclinic and then as a demonstrator in Benghazi Dental Faculty in 1987.
Dr. Warreth was awarded MDent Sc in Restorative Dentistry in 1995 from Trinity College, Dublin, Ireland.
From 1995 to 2001, Abdulhadi worked as a lecturer in the Department of Fixed and Removable Prosthodontics at Benghazi Dental Faculty.
In the year 2007, Dr Warreth was awarded a PhD in Oral Implantology from Trinity College, Dublin.
He was also awarded Membership of Faculty of Dentistry of Royal College of Surgeons in Ireland (MFD).
Currently, he works as a clinical supervisor/teacher at Dublin Dental University Hospital.