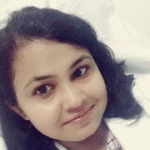 India
Department of Pedodontics and Preventive Dentistry,
Santosh Dental College and Hospital.
Neeti Mittal
Address:
No. 1, Santosh Nagar,
Ghaziabad, 201009, Uttar Pradesh,
India.
Research Interests:
Pediatric and preventive dentistry with a focus on Sedation, Esthetics, Molar incisor hypomineralization, Fluorides and Newer preventive modules.
Biography:
Dr Neeti Mittal did her graduation with consistent top ranks.
She performed decently in All India Postgraduate Entrance Examination and secured rank 3.
She did her masters in Pediatric and Preventive Dentistry from very prestigious institute PGIMER, Chandigarh, India.
She has several publications to her credit and is reviewer in top ranking journals of her speciality.
Currently she is working as faculty in Santosh Dental College and Hospital, Ghaziabad.