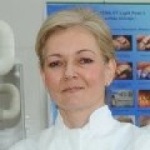 Serbia and Montenegro
Faculty of medicine,
Clinic for dentistry of Vojvodina.
Ljiljana Strajnic
Address:
Hajduk Veljkova 11,
21000 Novi Sad,
Serbia and Montenegro.
Research Interests:
Occlusion, Gnatology, Dental anatomy, Dental anthropology, Oral implantology, Dental aesthetics , Digital dentistry, Mobile prosthetics, Fixed prosthetics
Biography:
Dr Ljiljana Strajnic is an Assistant Professor at the Faculty of Medicine University of Novi Sad, Serbia.
She received her dental degree (DDS) in 1992 from the same Faculty.
Currently, she works for the Clinic for Dentistry of Vojvodina, Department of Prosthodontics, Novi Sad.
She is prosthodontist specialist with Ph.D degree in Prosthodontics, awarded from the School of Dental Medicine, University of Belgrade in 2006.
She is author of more than 70 scientific presentations at international scientific conferences and articles in peer-reviewed journals.
She was awarded for scientific research at National Prosthodontics scientific conferences.
She is also a scientific reviewer for series of national and international dental journals and an Editorial board member in national and international journals.
She is editor in cheef of national scientific journal Dentistry Review.
Her expertise is on computerized cephalometric analysis of the craniofacial morphologic parameters for optimal reconstruction of the vertical dimension of occlusion in prosthodontic diagnostic and therapy as well as longitudinal evaluation of changes on the orofacial complex tissues and intemaxillary relationships.