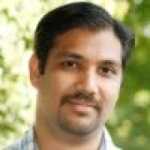 United States
MD Anderson Cancer Center
Dept. of Hematopathology
Suraj Konnath George
Address:
1515 Holcombe Blvd
Houston, TX 77030
United States
Research Interests:
Cancer Biology, Biomarkers, Small molecule inhibitors, Animal models of cancer, Nanotechnology and nanomedicine, Preclinical studies
Biography:
Dr. Suraj Konnath George received a PhD in Medical Biochemistry from University of Kerala in 2009, where he began as a cancer biologist.
He is a recipient of Senior Research Fellowship from Indian Council of Medical Research, and has been honored by several awards.
He did postdoctoral training at Baylor College of Medicine and MD Anderson Cancer Center, USA.
He is also serving in the editorial board of several high impact oncology journals and is working in the field of tyrosine kinase inhibitors in lymphoma at the MD Anderson Cancer Center, USA.