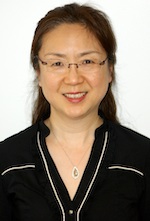 United Kingdom
"School of Biological Sciences, Faculty of Biology, Medicine and Health, The University of Manchester, United Kingdom"
Tao Wang
Address:
Division of Evolution & Genomic Sciences (L5)-Division of Evolution & Genomic Sciences
Manchester Institute for Collaborative Research on Ageing-School of Social Sciences
Research Interests:
Cardiovascular, Metabolic & Nutritional SciencesNeuroscience & Mental HealthEvolution, Systems and GenomicsCellular & Development SystemsPlatform Sciences and Technologies
Biography:
Tao Wang leads a research group investigating the molecular basis of cardiovascular diseases, focusing on genetic vascular conditions and the Notch signalling in cardiovascular system.
She has expertise in establishing and characterising the patient-specific induced pluripotent stem cell (iPSC) models and identify therapeutic targets.
She supervises a number of PhD students and MRes students.
She directs the course Human Genetics for MSc and STP in Genomic Medicine and Genetic Counselling programmes. She pear reviews grant applications for a number of funding bodies and manuscripts for international journals.
She sits on the Managing Editorial Board of "Frontiers in Bioscience" and is the Managing Editor of the FBS special issue "Signalling Pathways in Cardiovascular Function and Diseases".
She is also member of Editorial Board for journals "American Journal of Clinical and Experimental Medicine", "Signal Transduction Insights" (an online journal) and "Recent Patents on CNS Drug Discovery".