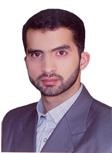 Iran, Islamic Republic of
+98-32625324
Mohammad Reza Vesali Naseh
Address:
Department of Civil Engineering,
Faculty of Engineering
Arak University,
Arak, Iran.
Research Interests:
Water Resources Management, Surface Water Quality Modeling, Evaluation of Heavy Metal Pollution in waterbodies.
Biography:
Mohammad Reza Vesali Naseh has born in Hamedan city in 1983, he finished his high school in Hamedan and he entered Power & Water University of Technology bachelor of Civil Engineering, then he received his Msc. degree form Tarbiat Modres University.
He started his PhD course in University of Tehran in Environmental Engineering.
During his MSc & PhD, he started his industrial carrier with Water Resources Management (WRM) and Water Research Institute (WRI) at the Ministry of Energy as environment expert, manager of Education & Research, Head of water examination laboratory and the Head of Water & Wastewater Research Center.
He has been working in Department of Civil Engineering, Faculty of Engineering in Arak university since 2014.
Awards:
Member of Iranian Association for Environmental Assessment
Member of Iranian Society of Environmentalists