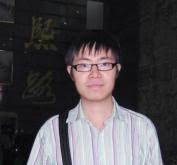 Germany
Visiting scholar, Fudan University, Shanghai, China
Postdoctoral researcher, University of Hamburg, Germany
+49 40 42838-9193
Kesheng Shu
Address:
Grindelberg 7,
D-20144 Hamburg,
Germany.
Research Interests:
Bioeconomy
Climate change
System analysis
Biography:
2013, STIBET-Mitteln Scholarship granted by German Academic Exchange Service (DAAD)
2012, Ernst-Mach Scholarship granted by Austrian Federal Ministry of Education and Science (BMWF)
2011, Merit Scholarship for International Students jointly granted by the University of Hamburg and German Academic Exchange Service ( DAAD)
2010, China National Scholarship granted by China Scholarship Council (CSC)
2010, World Geothermal Congress 2010 Fellowship
List of Publications:
Shu K., Scheffran J., Schneider U.A., Yang L., Elflein J., Reconciling food and bioenergy feedstock supply in emerging economies: Evidence from Jiangsu Province in China, International Journal of Green Energy, 6(2017), 509-521. (SCI, IF 1.601)
Shu K., Schneider U.A., Scheffran J., Optimizing the bioenergy industry infrastructure: transportation networks and bioenergy plant locations, Applied Energy, 4(2017), 247-261. (SCI, IF 5.746)
Shu K., 2016. The construction of competitive bioenergy industry in China: Status quo and prospects, in: A. Bammé, G. Getzinger and T. Berger (Eds.), Yearbook 2014 of the Institute for Advanced Studies on Science, Technology and Society. Profil, Munich and Vienna.
Shu K., Schneider U.A., Scheffran J., Bioenergy and food supply: A spatial-agent dynamic model of agricultural land use for Jiangsu province in China, Energies, 8(2015), 13284-13307. (SCI, IF 2.077)
Shu K., Sustainable bioenergy use and climate change in China: A spatial agent model for the case of Jiangsu Province. Hamburg, Germany: University of Hamburg; 2015.
Jin X., Dong S., Luo L., Li Y., Yuan C., Shu K., & Chen J., Environmental effects of foreign trade and its spatial variations in mid-eastern provinces and cities of China. Chinese Geographical Science, 22(2012), 626-636. (SCI, IF 1.145)
Shu K., Huo M., Discussion of the Chinese development strategies of geothermal resources based on the circular economy, World Geothermal Congress 2010.
Shu K., Huo M., Application of remote sensing technology in geothermal exploration: a case study of Taizhou city in Jiangsu province, World Geothermal Congress 2010.
Shu K., The research on the division of the development priority zones on the basis of relative carrying capacity of resources information:A case study of the Yangtze River Basin, Areal Research and Development, 1(2010),33-37. (CSSCI)
Shu K., The reconstruction of economic circle division model: Take Chongqing One Hour Economic Circle as an example, The Research on Balancing the Urban and Rural Development, 3(2009), 26-32.