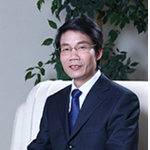 China
Shanghai Jiao Tong University School of Medicine
Guo-Qiang Chen
Address:
No280. Chong South Road,
Shanghai 200025.
Research Interests:
Cell fate determination of leukemic cell and leukemia-initiating cells
Biography:
Dr Guo-Qiang Chen holds his Ph.D from Shanghai Second Medical University, currently named Shanghai Jiao Tong University (SJTU) School of Medicine in 1996.
He is a member of Chinese Academy of Science, president of SJTU School of Medicine, vice president of SJTU, and director of the Key Laboratory of Cell Differentiation and Apoptosis of Ministry of Education in China.
He is also Honorary Professor of University of Ottawa Faculty of Medicine and Sydney University School of Medicine.
In the 1990's middle, Dr Chen made significant contributions to the understanding how arsenic trioxide treats acute promyelocytic leukemia (APL), a unique subtype of acute myeloid leukemia (AML).
Thereafter, he focused on identification of natural compounds (such as adenanthin and pharicin B) and their targets against AML by differentiation induction, molecular mechanisms of cell fate determination of cancer cells especially AML cells, and cancer microenvironment and bone marrow niche for normal and malignant hematopoiesis.
Dr Chen has published over 130 papers in peer-reviewed international journals with over 5000 citations and is naturally a reviewer and editorial board member of several international journals.
He received several national awards, including the Second Prize of the National Natural Science Award by State Council of China.